What can we say about Velcro Pygmies? They are a little bit rude, a little bit crude, and a whole lot of patriotic! This band puts their money where there mouth is – they have flags from veterans wounded in Afghanistan that they put on stage at every show for the last 17 years. These flags are signed by the military members they served with, and the veterans wanted to take the flags out of their basement and put them on display to honor the service and sacrifice of the military. As part of their shows, the Pygmies allow military members and family to sign the flags, and they even had a WWII veteran come to the show just to sign the flag and be part of this great memorial tradition. So, we love this aspect of the band, but what about the ROCK????
They are a little bit rude, a little bit crude, and a whole lot of patriotic!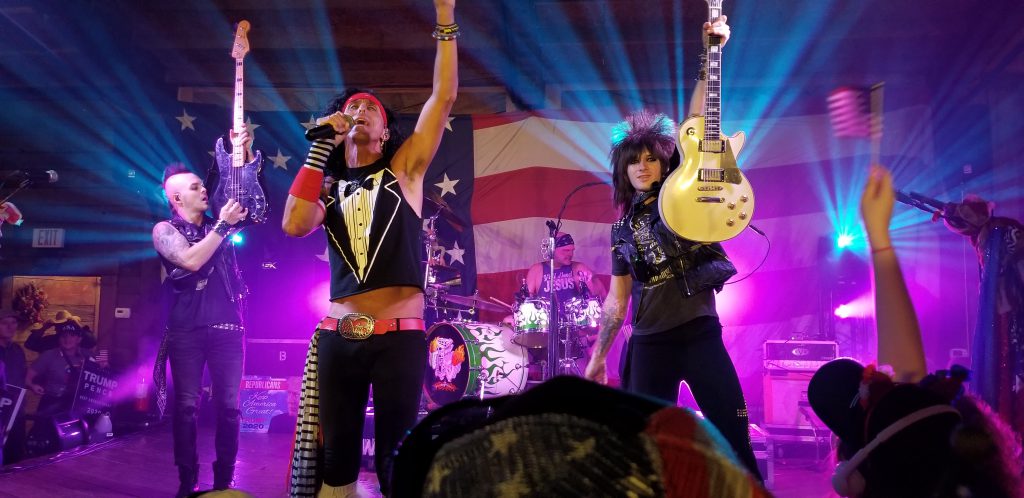 On the rock scale, this band is a 10! If you love those 80's metal hair bands, you are in luck. They even cover a few country favs like "Friends in Low Places" and "You Never Even Call Me By My Name". From Poison to Van Halen (with Chase a/k/a Chaser guitar god) doing proper homage to the great Eddie Van Halen, to those awesome rarely heard songs "Turn Up the Radio" you will dance your pants off all night. Audience participation is not optional with the Velcro Pygmies! Speaking of audience participation there are some traditions at each show…. glitter and blow pops. The glitter portion is tied to my personal favorite rock song – Pour Some Sugar On Me from Def Leppard. If you wake up in the morning and forgot where you were last night… and you see glitter all over your clothes – you were at a Velcro Pygmies show! What a great reminder of an awesome rockin' party night! For the blow pops portion of the show…. you will just have to come out and experience it for yourself.
The band keeps the surprises coming with a special guest singer / activist Shelley Luther belting out GNR's Sweet Child O' Mine. If you don't know who Shelley Luther is, just do a quick search and you will find the patriotic theme surfaces again.
Cameron the lead singer belts out all kinds of songs, and his energy and audience connection is through the roof! Flamboyant and funny Cam keeps you dancing all night. Chase will amaze you with his guitar prowess and how easy he makes it look!
Max "Maximus Hawk" handles the bass for the band and really gets the groove on. Max honors the memory of the band's previous bass player Jacob who passed away in 2016. Chris owns the drums and entertains the crowd with "We're Not Gonna Take It" and "We Will Rock You".
Don't miss this band and their awesome show! The guys are so friendly and they love what they do and have been together a long time. Become a part of the Pigmy family and follow their "Pigtales".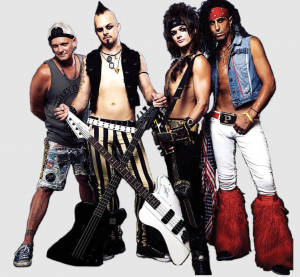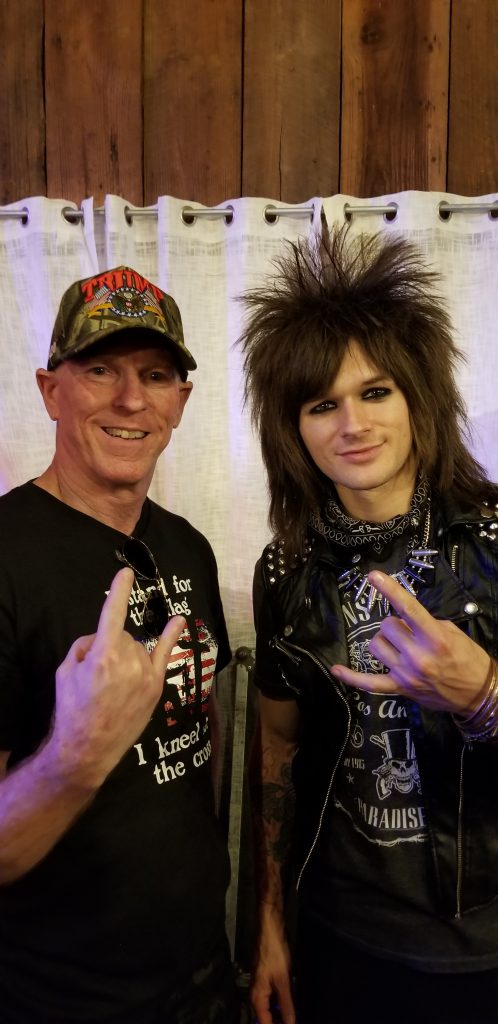 Poison
Nothin' But a Good Time
Talk Dirty To Me
Every Rose Has It's Thorn
Unskinny Bop
Billy Idol
Rebel yell
KISS
Rock and Roll all night​
Eddie Money
I think i'm in love
Take me home tonight

AC/DC
Dirty deeds done dirt cheap
Aerosmith
Sweet Emotion
Walk this way​
Metallica
Enter Sandman​
Cheap Trick
I want you to want me
Backstreet Boys
Larger than Life​
Queen
We will rock you​
Tone Loc
Wild Thing​
Twisted Sister
We're not gonna take it​
Guns n' Roses
sweet child of mine​
Buck Cherry
Crazy Bitch​
Def Leppard
Pour Some Sugar On Me
Van Halen
Ain't Talkin' 'Bout Love
Panama
You Really Got Me​
Bon Jovi
Dead or Alive
You Give Love A Bad Name
Prince
Purple Rain
Journey
Faithfully
Don't Stop Believing
Ozzy
Crazy Train
Bark at The Moon
Steve Miller Band
The Joker
Wild Cherry
Play That Funky Music
Neil Diamond
Sweet Caroline
Commodores
Brick House
Lynyrd Skynyrd
Sweet Home Alabama
David Allen Coe
You Never Even Call Me By My Name
Toby Keith
Courtesy of the Red White and Blue