In the Dallas area cover band scene there are a few bands that rise to the top, and one of our all time faves is Metal Shop Dallas. This band has it all! Covering 80's hair band mega-hits from Def Leppard, Van Halen, AC/DC, Motley Crue, Bon Jovi, and Ratt to some rarely heard Warrant and Skid Row classics that take you right back to great times and great memories.
The band: Michael Diamond (lead vocals), Ritchee Ratchett (lead guitar), Ginger Roxxx (lead bass), Crash Gordon (drums). This band is all IN! They not only sound great, they look great too! The hair, the spandex, the bling…. did we time travel back to the 80's??? The choreography and fun these guys put into their show amps up the energy to keep you dancing and singing all night. This is not just a cover band singing some tunes, this is an all out ROCK show!
This band is all IN! They not only sound great, they look great too!
METAL SHOP Dallas
80'S HAIR METAL ROCK COVER BAND
It doesn't matter if you see this band in a small intimate venue or at a huge outdoor festival, you will be in for a fantastic show! If you get a chance to ring in a New Year with these guys, DO NOT miss it! We can tell you it's by far the best way to rock in a new year! This band is big on audience participation, so ladies, when it comes time for "Pour Some Sugar on Me" be ready to join the band onstage. Of course you can't help but sing along to all the great hits!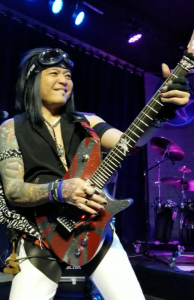 Ritchee Ratchett owns that guitar! His riffs will blow you away! Ginger Roxxx lays down a bass groove you won't forget! Crash Gordon plays the drums like a boss, and we can't forget those soaring high notes from Micheal Diamond (why do you think the spandex is so tight). Off stage, this band is so cool and friendly and they hang around to talk with fans and take pictures.
Now that we've seen Metal Shop many times, we feel like part of the family. Their fans are fun and we always have a good time saying hi to familiar faces. Check them out on Facebook https://www.facebook.com/metalshopdallas/ or on the web at http://www.metalshopdallas.com